Fanshawe Yacht Club, London, Ontario, CANADA
Founded in 1953, Fanshawe Yacht Club is celebrating 70 years in 2023!!
About FYC:     
FYC is a not-for-profit sailing club on Fanshawe Lake, a man-made reservoir on the historic Thames River in London, Ontario, CANADA.  Read more about FYC's origins in the article "FYC History" below.
FYC is chiefly run by Volunteers and our Goals are:     
 to provide facilities in which Members and the community may receive instruction in sailing skills
to encourage sailing on Fanshawe Lake and elsewhere
to promote a high standard of skill and seamanship in the handling of sail-craft
to secure honourable conduct in all activity and competition
to foster a friendly and cooperative spirit among its Membership and those who
frequent Fanshawe Yacht Club
to cultivate fraternal relationships with other yachting organizations
to perpetuate the tradition and fine spirit of the sport of yachting
to arrange, develop and maintain proper facilities for the recreation of its Members and those who frequent Fanshawe Yacht Club
Fun Stuff:   Each sailing season, we host several regattas, organize fun social events and run a Sailing School for kids and adults. FYC also provides a wonderful atmosphere for families and all those who want to get out and have fun on the water.
Boats in the club range in size from small dinghies to 26 foot trailerable cruising sailboats. The club offers recreational sailing, as well as weekly informal race nights for club members (rookie racers are always welcome!), club regattas and regattas open to non-club members. Our most active racing fleets include Laser, Laser Radial, Wayfarer, CS-22, open cruising classes, etc.
The FYC Sailing School has programs for both youth and adults to learn sailing. Summer camps are available during the day, as well as evening courses for adults.
Licensees:  We encourage Community Organizations to lease space on our grounds and make use of our wonderful facilities so everyone can have fun on the water.  Follow the links below to learn more about some of our current and past Licensees such as Rowbust Dragon Boat Team, London Dragon Boat Club, Abilities in Motion (Adaptive Paddling) and Community Living London (Able Sail).
Fanshawe Yacht Club is a private club located on the grounds of Fanshawe Conservation Area – part of the Upper Thames Conservation Authority.
Drop us a line if you'd like more info about FYC or click the buttons below to learn more about Membership and our Sailing School.
FYC and First Nations Traditional Territory
Fanshawe Yacht Club wishes to acknowledge that the club is "… within the Traditional Territory of the Attawandaron, Anishinaabeg, Haudenosaunee, and Lunaapeewak peoples, who have longstanding relationships to the land, water and region of southwestern Ontario.
The local First Nation communities of this area include Chippewas of the Thames First Nation, Oneida Nation of the Thames, Munsee Delaware Nation and Delaware Nation at Moraviantown. In the region, there are eleven First Nation communities and a growing Indigenous urban population.
We value the significant historical and contemporary contributions of local and regional First Nations and all of the Original peoples of Turtle Island (North America)."*
* This acknowledgement is excerpted from the UTRCA website.  Please Click Here for more information about the Traditional Territory in this area.
Our Location in London, Ontario
A View of the FYC Mooring Field on Fanshawe Lake.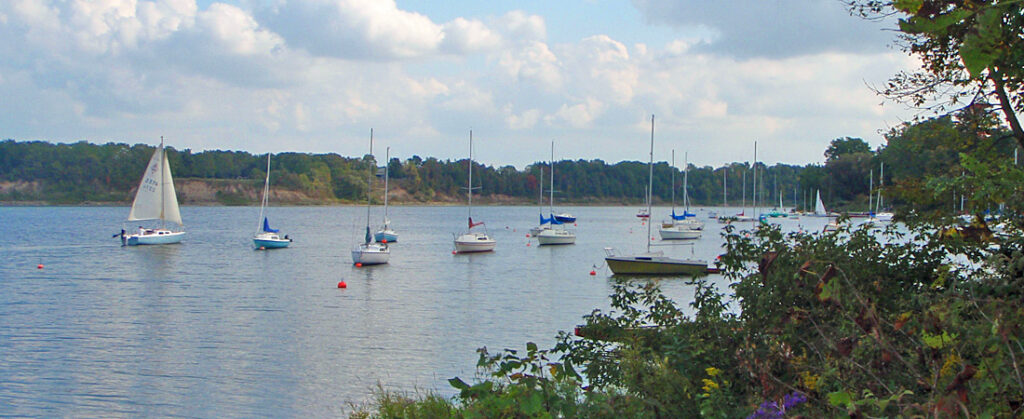 Our

Gallery of Photos

is on Facebook!
To view more Photos from around FYC, Past Regattas and the Sailing School, 
Click the Red Link or on the Icon below to visit our Facebook Page
Video of Laser Sailing on Fanshawe Lake